Vintage audio gear connoisseur, computer enthusiast, time nut, music lover, vintage games gamer, nerd, tinkerer and shady electronic projects maker
IBM PC XT 8-bit ISA Prototype PCB Card mini
Introduction
I have originally designed this prototypng PCB card for few of my projects, but this turn out so well that I have now posted all schematic, gerber files and documentation to fellow enthusiast such as yourself. Perhaps (and I hope) content in this obscured corner of interwebs will inspire you to start your own projects.
You can use these card in industry standard ISA XT 8-bit or AT 16-bit slot which is backward compatible. PCB contains about 900 holes in 0.1" matrix, good enought to create simple projects such as RTC or 8bit sound card. World is your oyster in this case.
Use card in conjuction with IBM PC XT 8-bit ISA Bus Riser Extender Card to raise above motherboard for easier access and protyping. Card has standard 62pin 2x31pin connectors with 45° chamfered edge for easy insertion.
These boards look absolutely gorgeous in standard green solder mask if you going for that standard industrial look.
I can advise you where to buy PCB rear mounting bracket, alternatively you can 3D print your own, files are all over interwebs.
ʕっ•ᴥ•ʔっ
Except where otherwise noted, content on this site is licensed under a Creative Commons Attribution 4.0 International license. CC-BY-4.0
I have created content on this website free to use for personal, educational and commercial purposes. If you like or use my work, please mention me or perhaps consider a donation.
... but if you feel like getting something for nothing isn't your cup of tea (completely understandable) (ಥ﹏ಥ) and a prefer to support me and get something back in return, then you can purchase directly on my eBay or Tindie shop. However if you are still up for an adventure */in very positive way/* (and are happy to have PCB's made yourself in your favourite PCB house - PCBWay is highly recommended), then carry on, download gerber files and have fun! ( ͡° ͜ʖ ͡°)
EDA preview
click on pictures to enlarge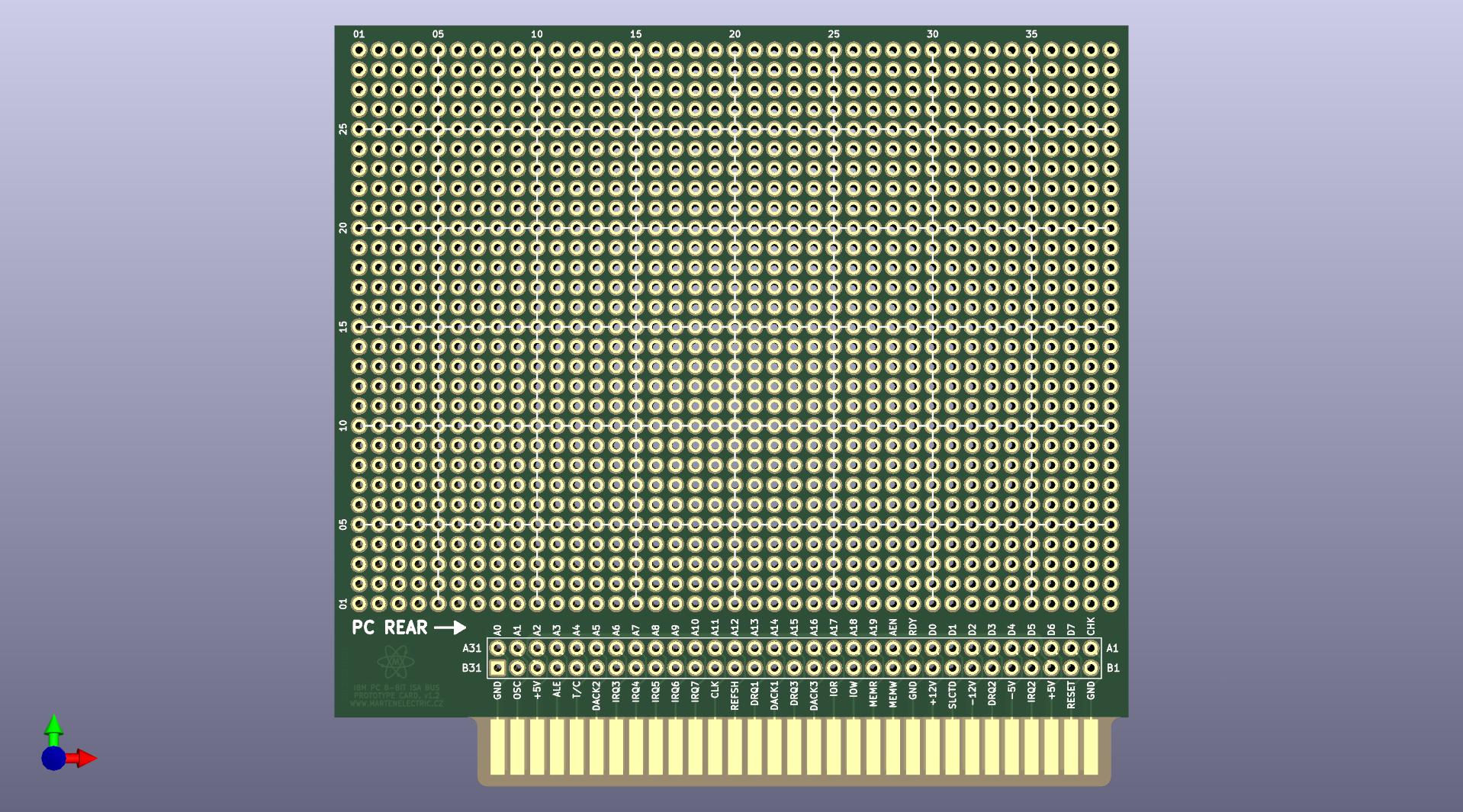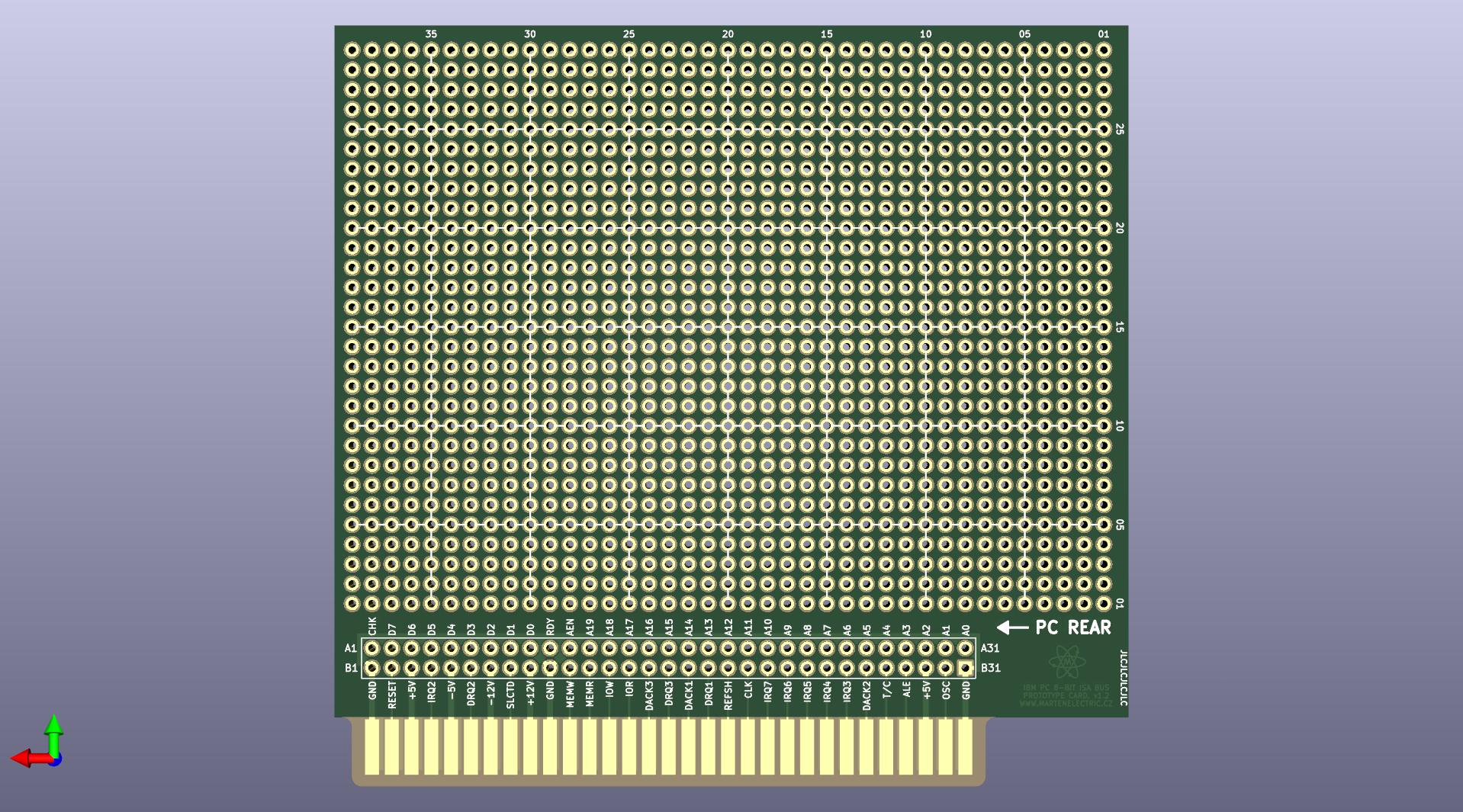 PCB design layout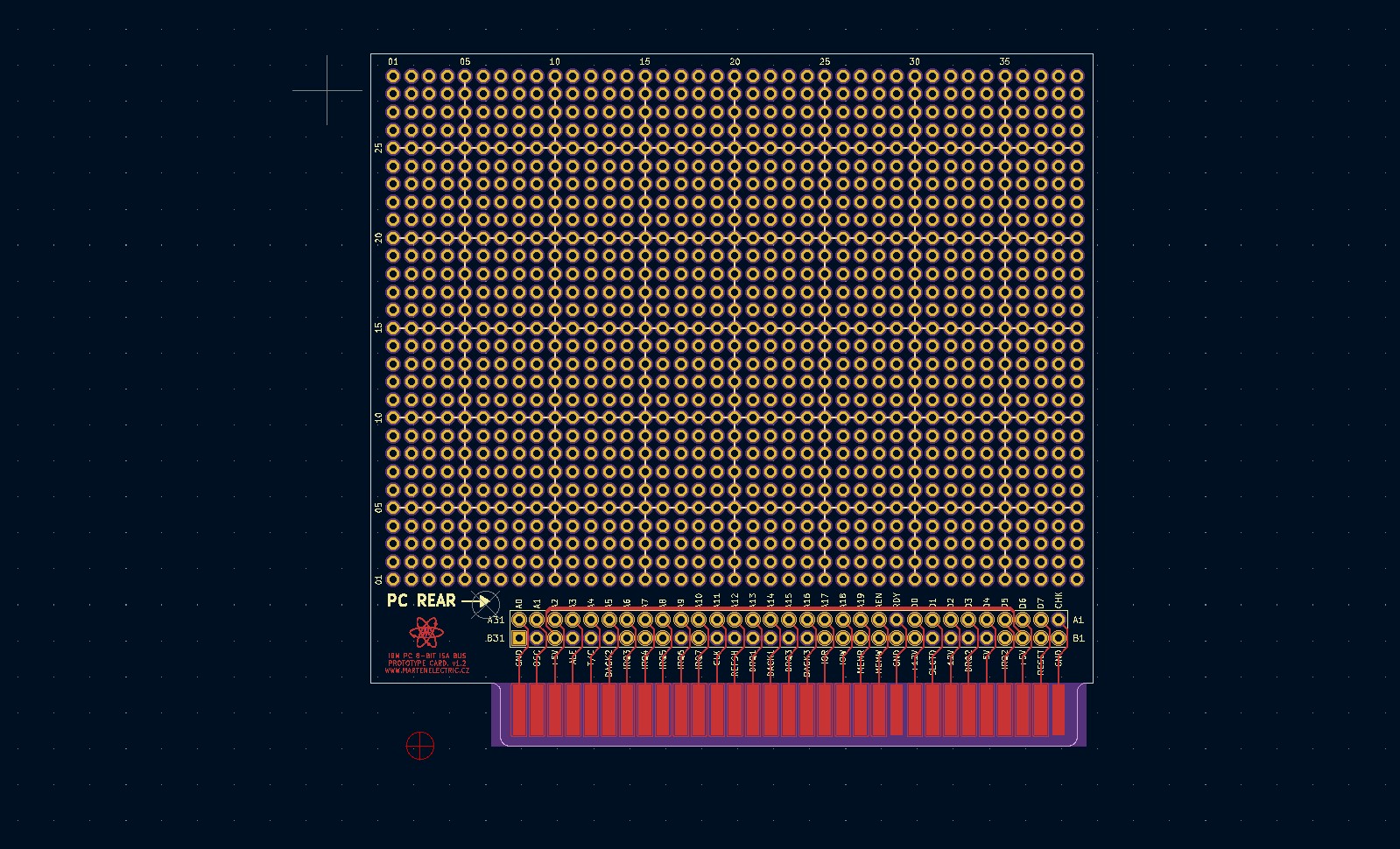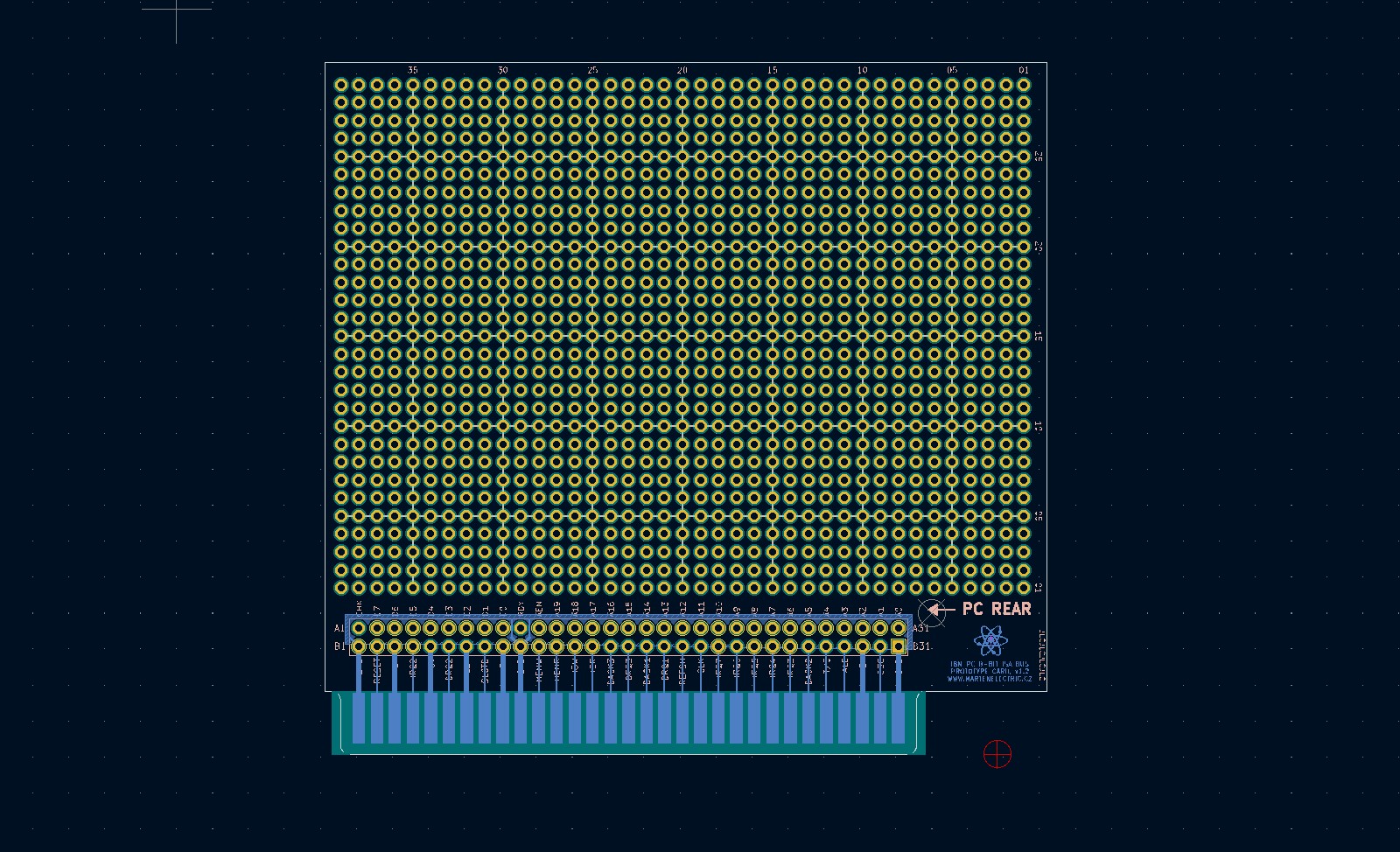 Specifications
Board Type: Prototype Board
Board Material: FR4-Standard Tg 130-140C Epoxy Glass Composite
Layers: Double sided
PCB Colour: Green colour solder mask, white silk screen lettering
Surface Finish: Lead free HASL-RoHS
External size: 100x100mm
Board Thickness: standard 1.6mm fits in standard 8-bit ISA card slot
Pitch: 2.54mm (100.00 mils)
Hole matrix: 39x23pin + 62pin prototyping (959pin in total)
Hole size: 1.00mm
Board Connector / Footprint: 62pin 2x31pin ISA Bus PCB edge connector with 45° chamfered edge,
Copper Thickness: 35um
Card weight: 30g
Bill of materials
| Identifier | Value | Qty | Notes |
| --- | --- | --- | --- |
| Printed Circuit Board | 8bit ISA prototype PCB 102 x 98 mm 2 Layer FR4 | 1 | v1.2 |
Assembly instructions and notes
■ for 45° chamfered edge use option Gold Fingers and 45°finger chamfered option when sending PCB to matufacture. If you by any chance forget to choose this option then you will have to chamfer edges withe sand paper, knife of file in later stages.
■ Gerber files contain " JLCJLCJLCJLC" to silk layer. You can specify a location of the order number, select the "Specify a location" option when you place an order. Only if you order via JLCPCB
. ■ Use a temperature-controlled soldering station and quality solder. Take care not to leave solder bridges as any short circuit will most likely lead to failures
■ This card does not use back PC metal bracket

Schematics
Design Files
Photographs
click on pictures to enlarge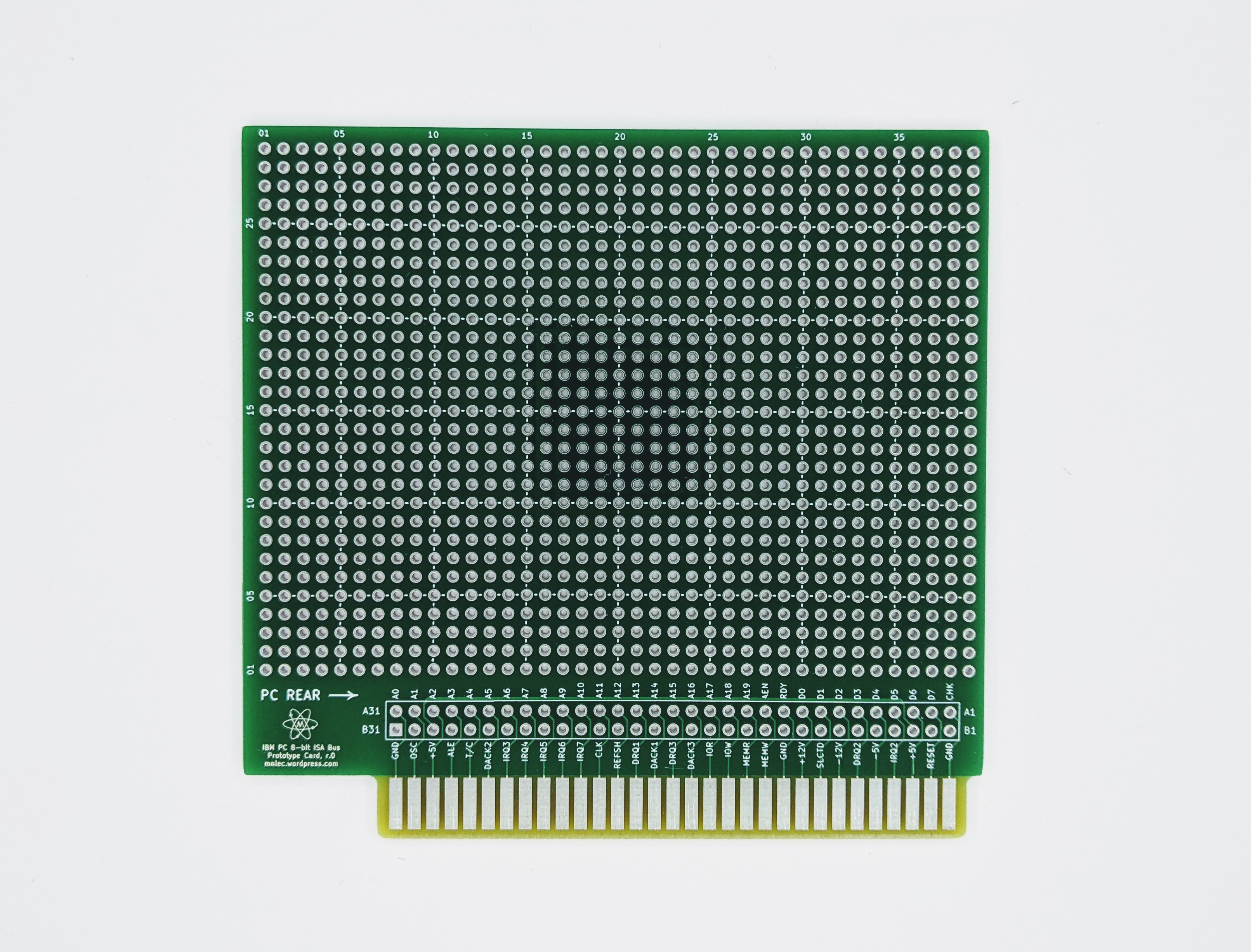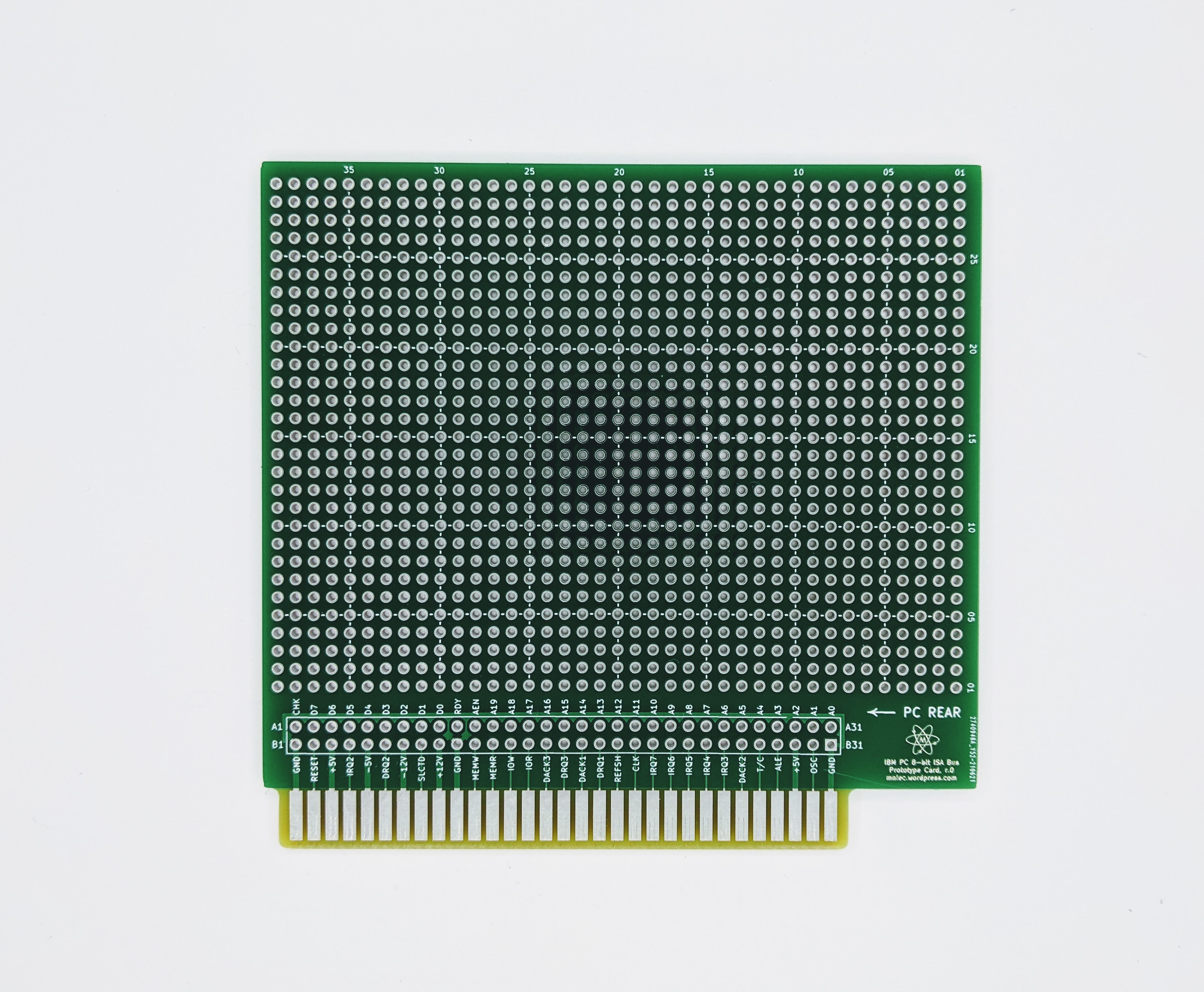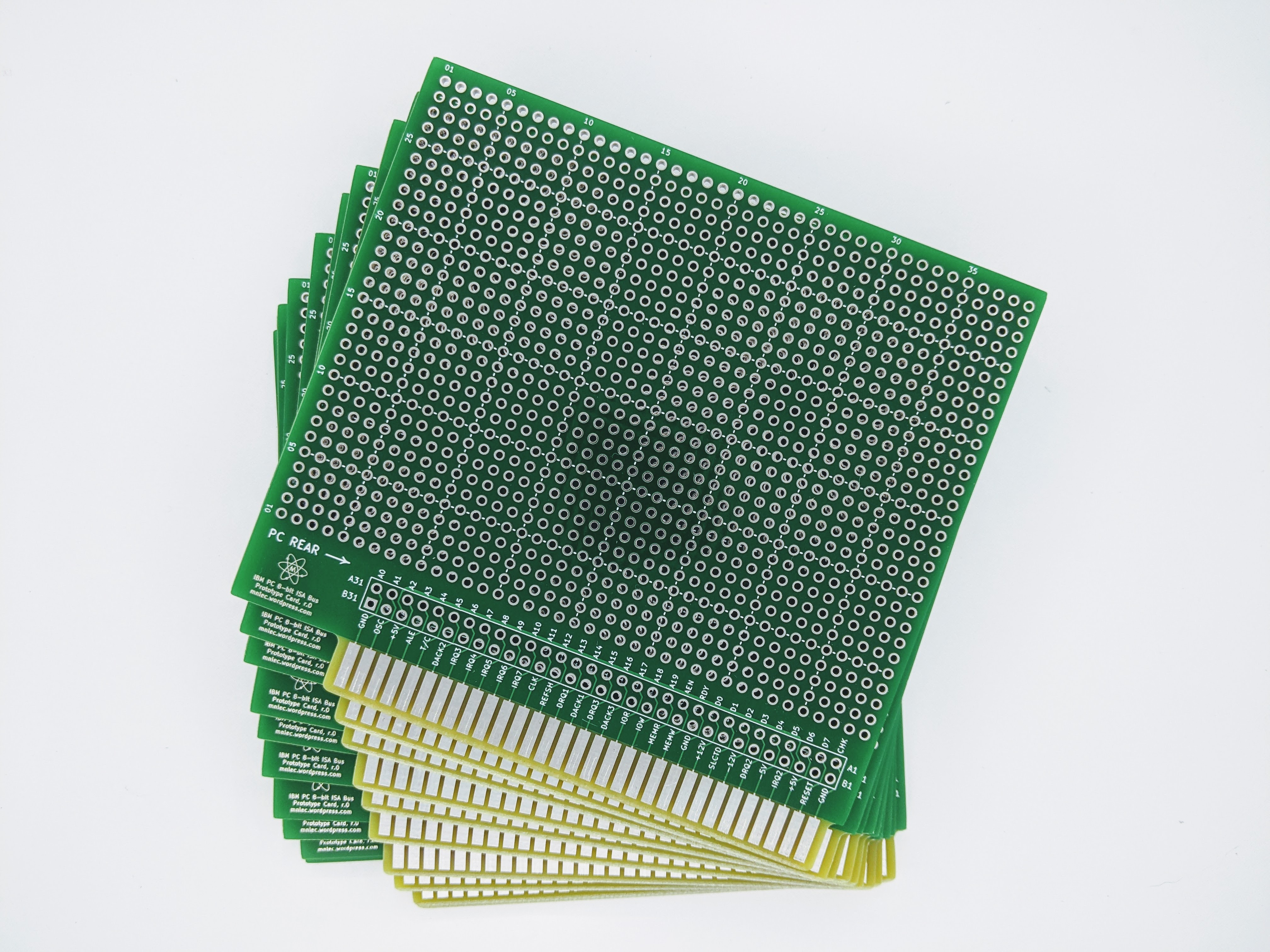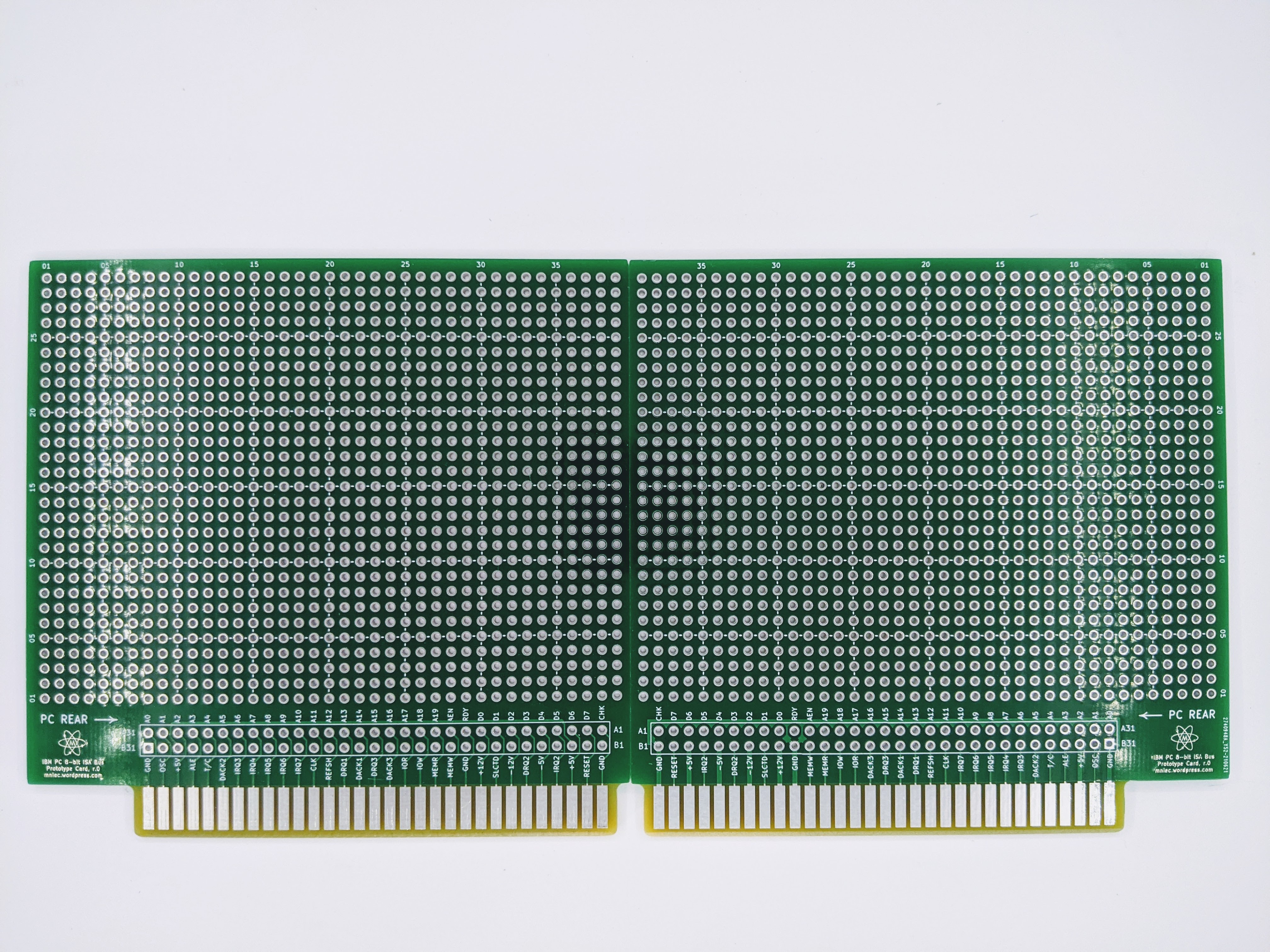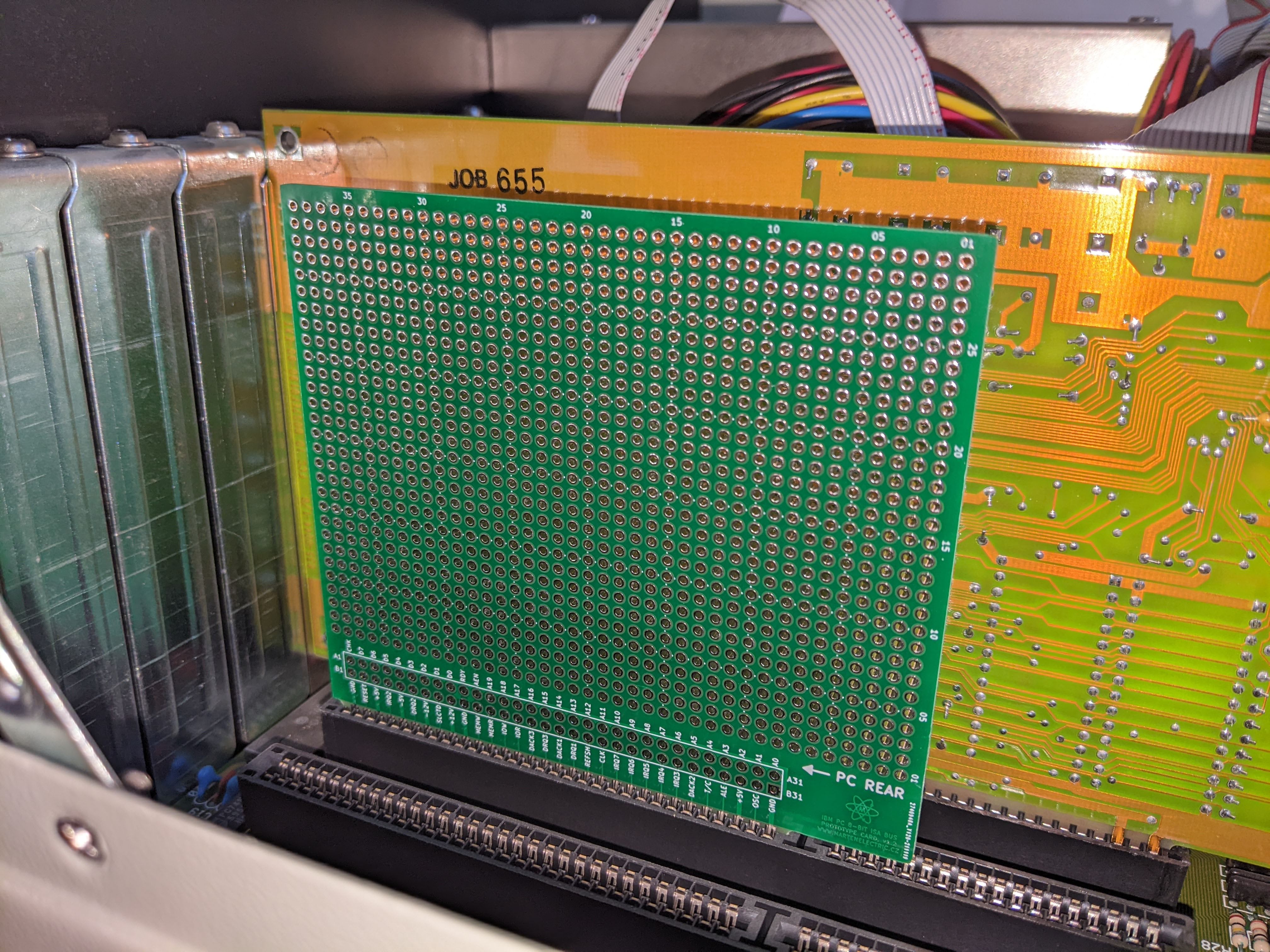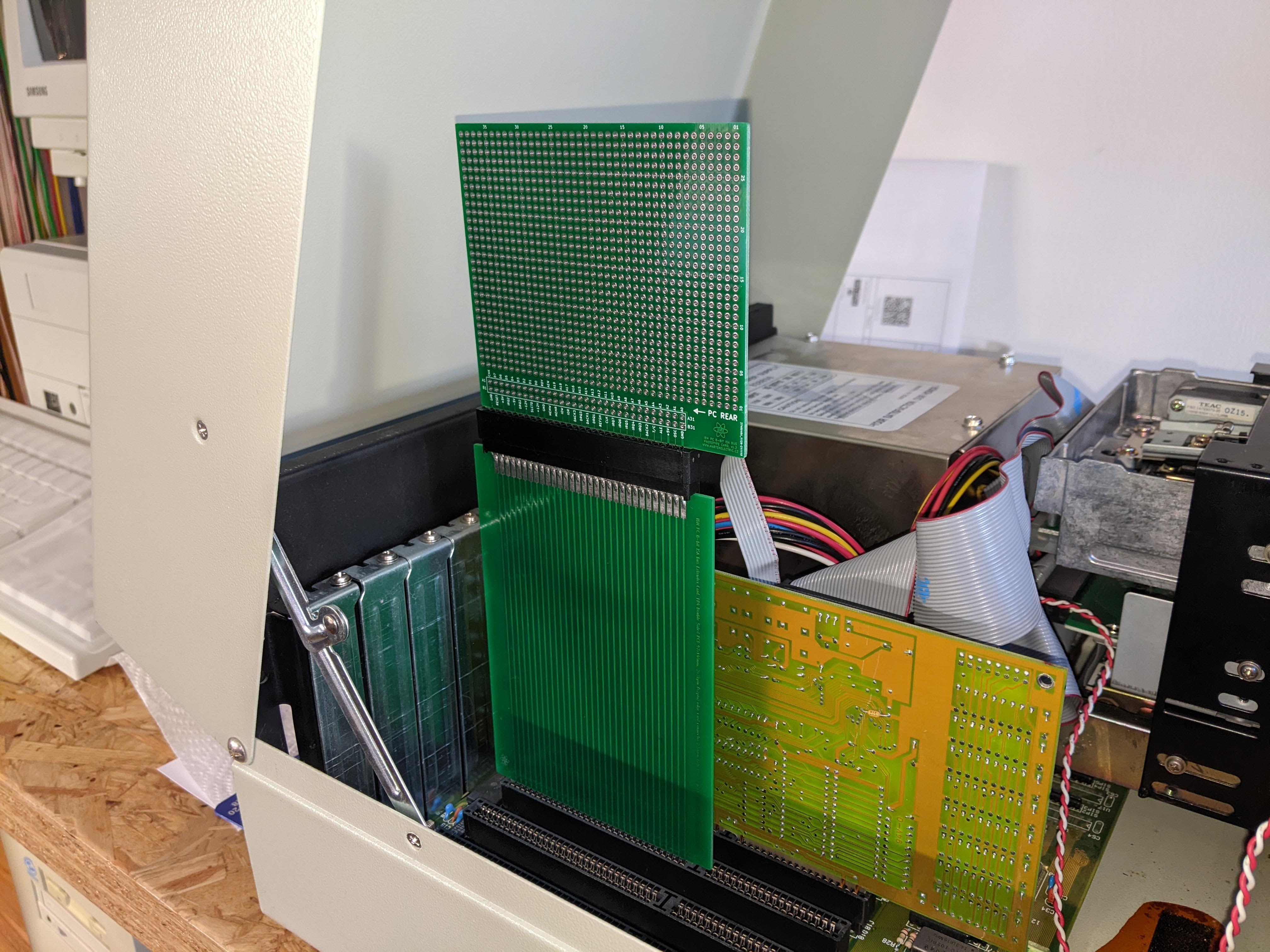 Versions and revisions
This section lists the project version and revision history.
v1.2
■ Final version
■ Various cosmetic updates
■ Various silkscreen updates

Last page update: 15 August 2022