Vintage audio gear connoisseur, computer enthusiast, time nut, music lover, vintage games gamer, nerd, tinkerer and shady electronic projects maker
SIMM & SIPP RAM IC chips database
Welcome to my 600ish database of chips used in vintage 72 and 30 pin RAM modules. Most likely the most comprehensive database on internet :)
Database is regularly updated with new chips and modules, that I find on internet. I have most of the datasheets in my posession, so please don't hesitate to contact me should you need one.
Use this database with caution as not all data provided can be accurate. This database should be really handy for those who want to identify chips for their vintage computer or homebrew RAMs. I have mainly contained vintage SIMM and SIPP D RAM chips for FPM and EDO RAM computers 80286 - Pentium which cover era approx end of 1980's till about 1998.
Database is constantly updated, so don't be shy to come back in few weeks.
ʕっ•ᴥ•ʔっ
Except where otherwise noted, content on this site is licensed under a Creative Commons Attribution 4.0 International license. CC-BY-4.0
I have created content on this website free to use for personal, educational and commercial purposes. If you like or use my work, please mention me or perhaps consider a donation.
... but if you feel like getting something for nothing isn't your cup of tea (completely understandable) (ಥ﹏ಥ) and a prefer to support me and get something back in return, then you can purchase directly on my eBay or Tindie shop. However if you are still up for an adventure */in very positive way/* (and are happy to have PCB's made yourself in your favourite PCB house - PCBWay is highly recommended), then carry on, download gerber files and have fun! ( ͡° ͜ʖ ͡°)
Database contais
■
list of chips used in 30 and 72pin SIMM EDO / FPM RAM and 30pin SIPP RAM
■
list of RAM modules
■
manufacturer indentifier
■
use search to find your chip
Open document in

Google Docs online or view on this page below.
click on pictures to enlarge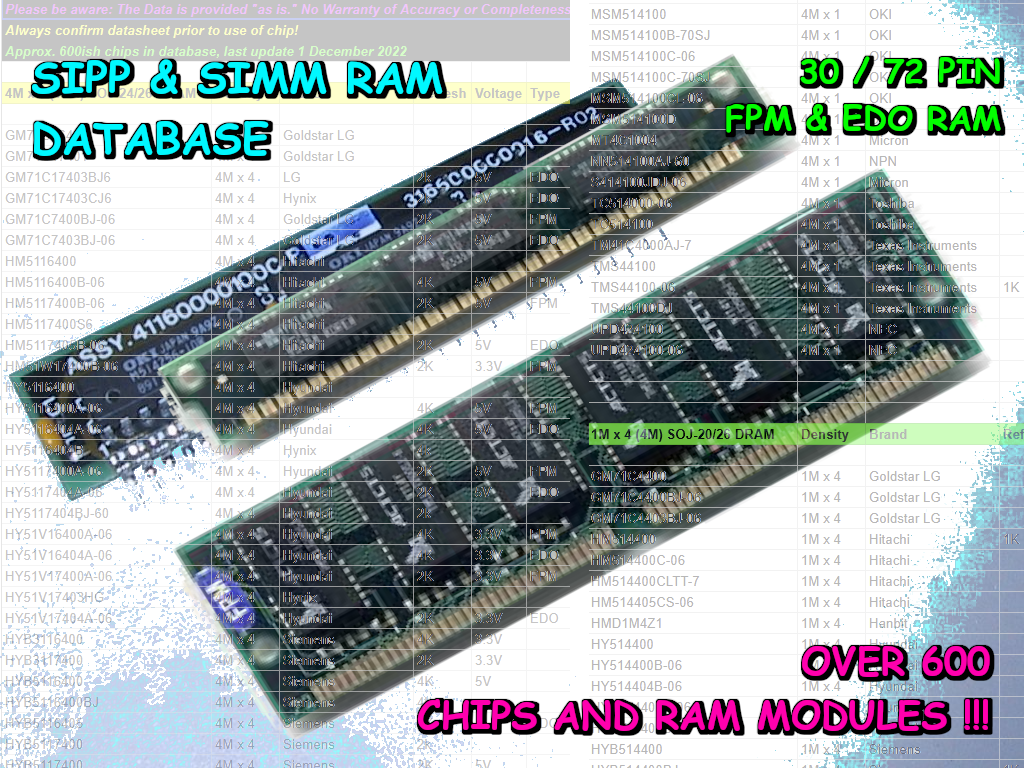 Last page update: 15 August 2022