Vintage audio gear connoisseur, computer enthusiast, time nut, music lover, vintage games gamer, nerd, tinkerer and shady electronic projects maker
Zilog Z80 Keychain PCB SWAG
Introduction
We live in an age where it's easier and cheaper than ever to create our own custom PCB. So to commemorate a magic time of computing history I have created a Z80 custom PCB badge SWAG. Unlock the mojo and envy of your fellow nerds. Perhaps (and I hope) content in this obscured corner of interwebs will inspire you to start your own projects.
This is probably the simplest PCB badge you can get, there is no circuitry, no soldering, no fuss, just hole to mount the keychain to unlock the pure Z80 nerd bliss! So what are you waiting for!
PCB Keychain comes in whatever colour you wish, but I reckon blue / silver colour would be the most accurate to original Zilog colours. PCB comes panelized in 3x3 matrix and each keychain is about 1" in size. Hole size is 2.54mm. Each panel contains six different designs to accommodate even for the most picky fellow nerds. Keychains are double sided so don't worry about losing mojo bling in high winds like some kind of wild comb over! :)
Short documentary on Badgelife for Hackaday that you can watch at https://youtu.be/G2fHKRONc6U
⊂(◉‿◉)つ
Except where otherwise noted, content on this site is licensed under a Creative Commons Attribution 4.0 International license. CC-BY-4.0
I have created content on this website free to use for personal, educational and commercial purposes. If you like or use my work, please mention me or perhaps consider a donation.
... but if you feel like getting something for nothing isn't your cup of tea (completely understandable) (ಥ﹏ಥ) and a prefer to support me and get something back in return, then you can purchase directly on my eBay or Tindie shop. However if you are still up for an adventure */in very positive way/* (and are happy to have PCB's made yourself in your favourite PCB house - PCBWay is highly recommended), then carry on, download gerber files and have fun! ( ͡° ͜ʖ ͡°)
EDA preview
click on pictures to enlarge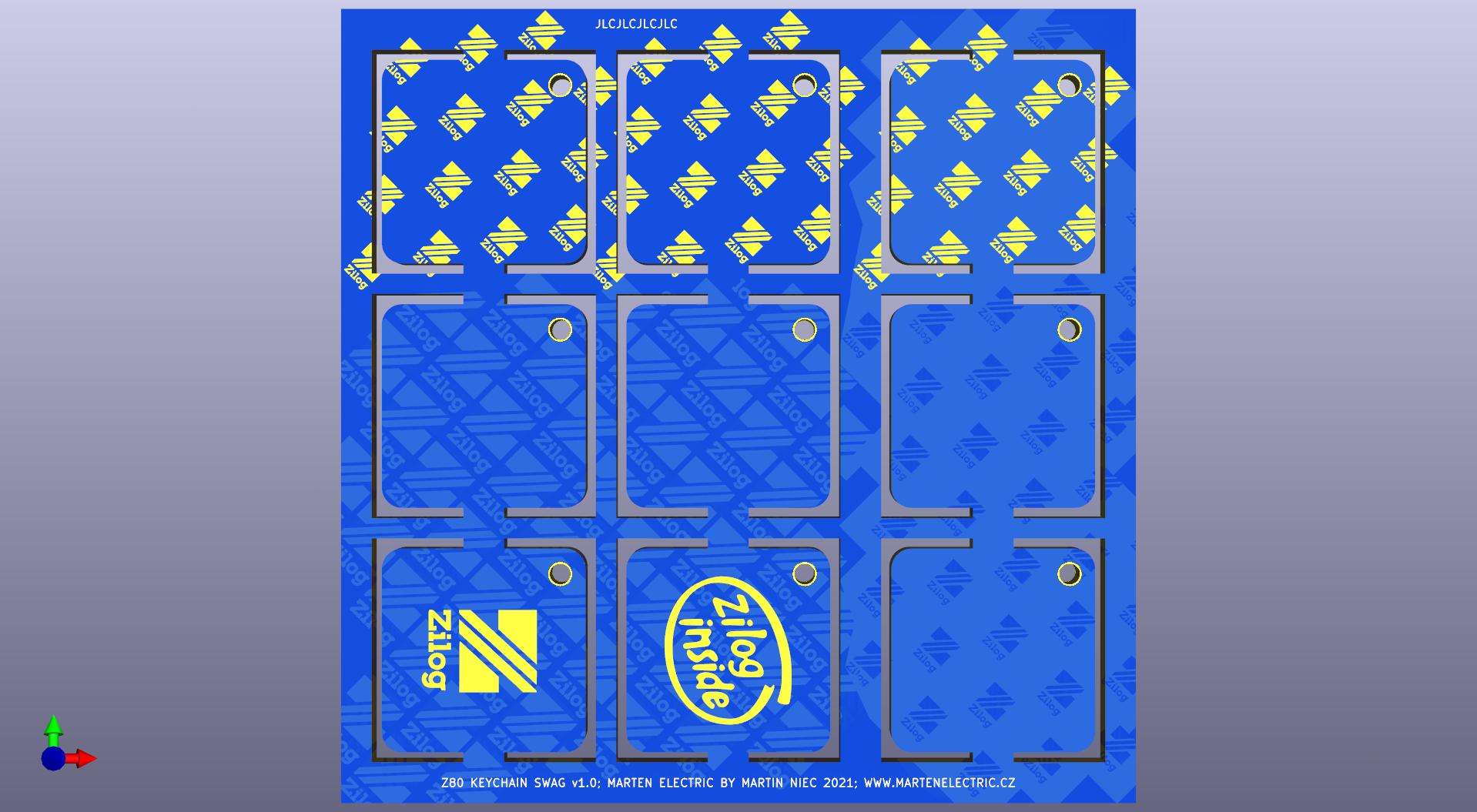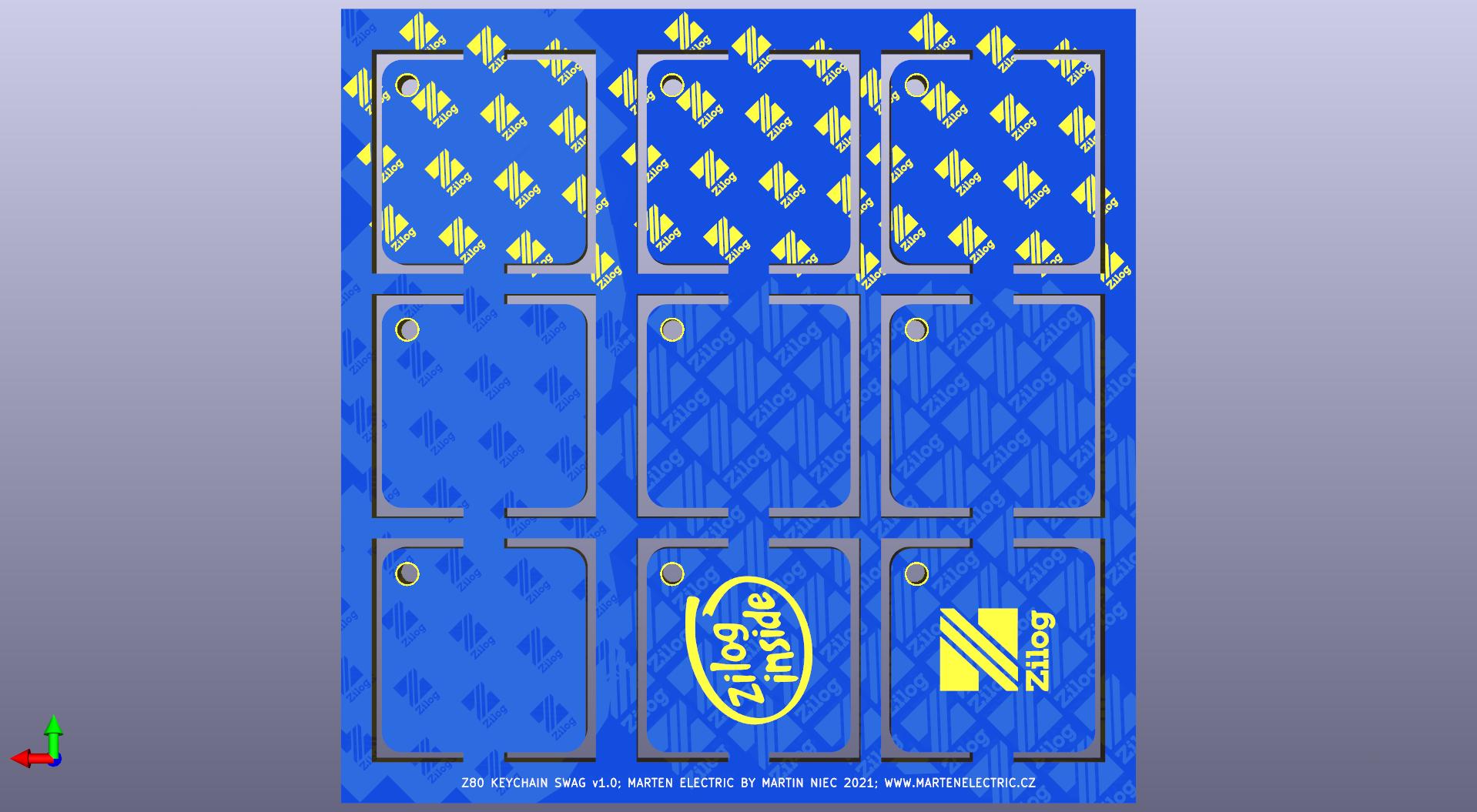 3d render v1.0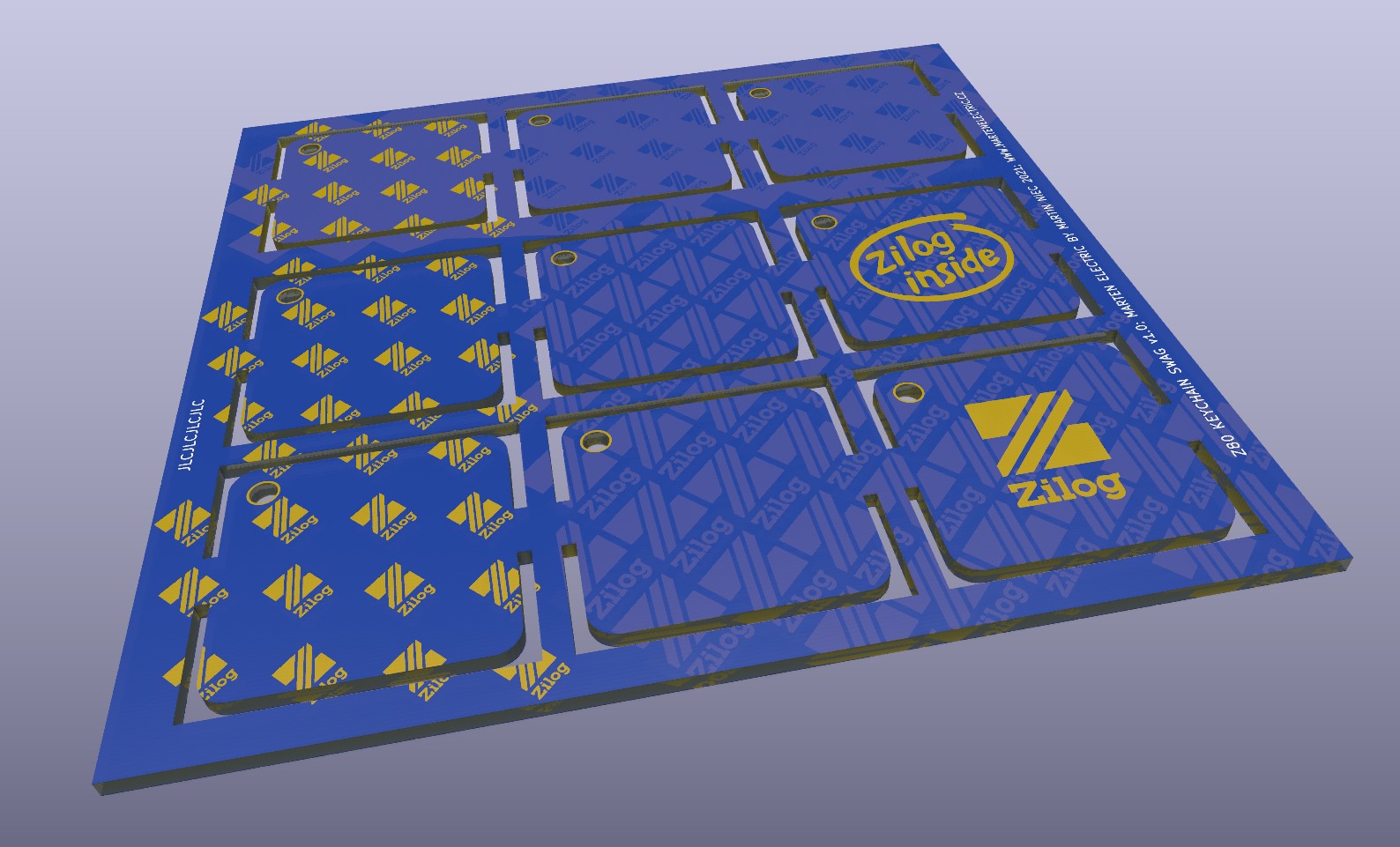 PCB design layout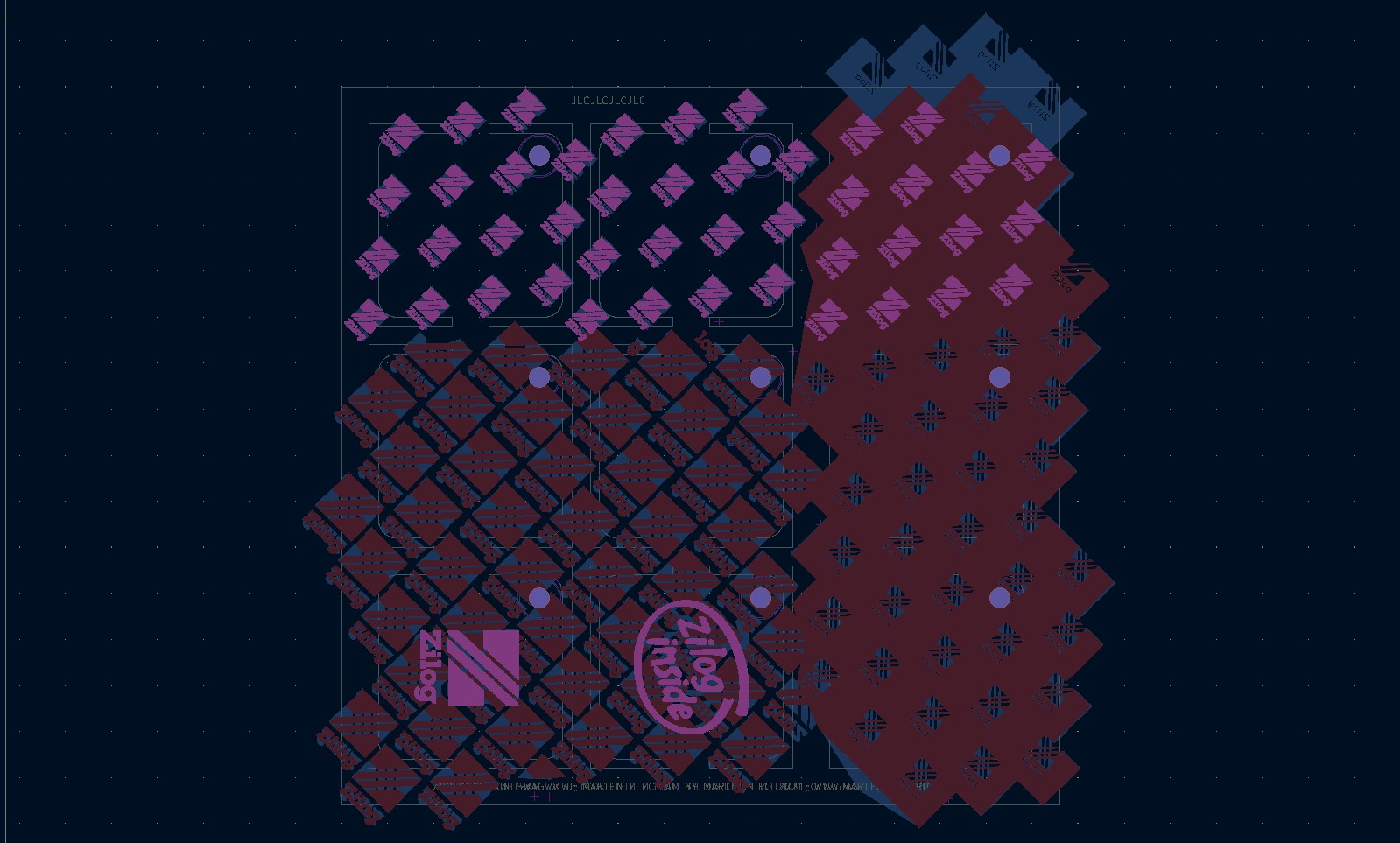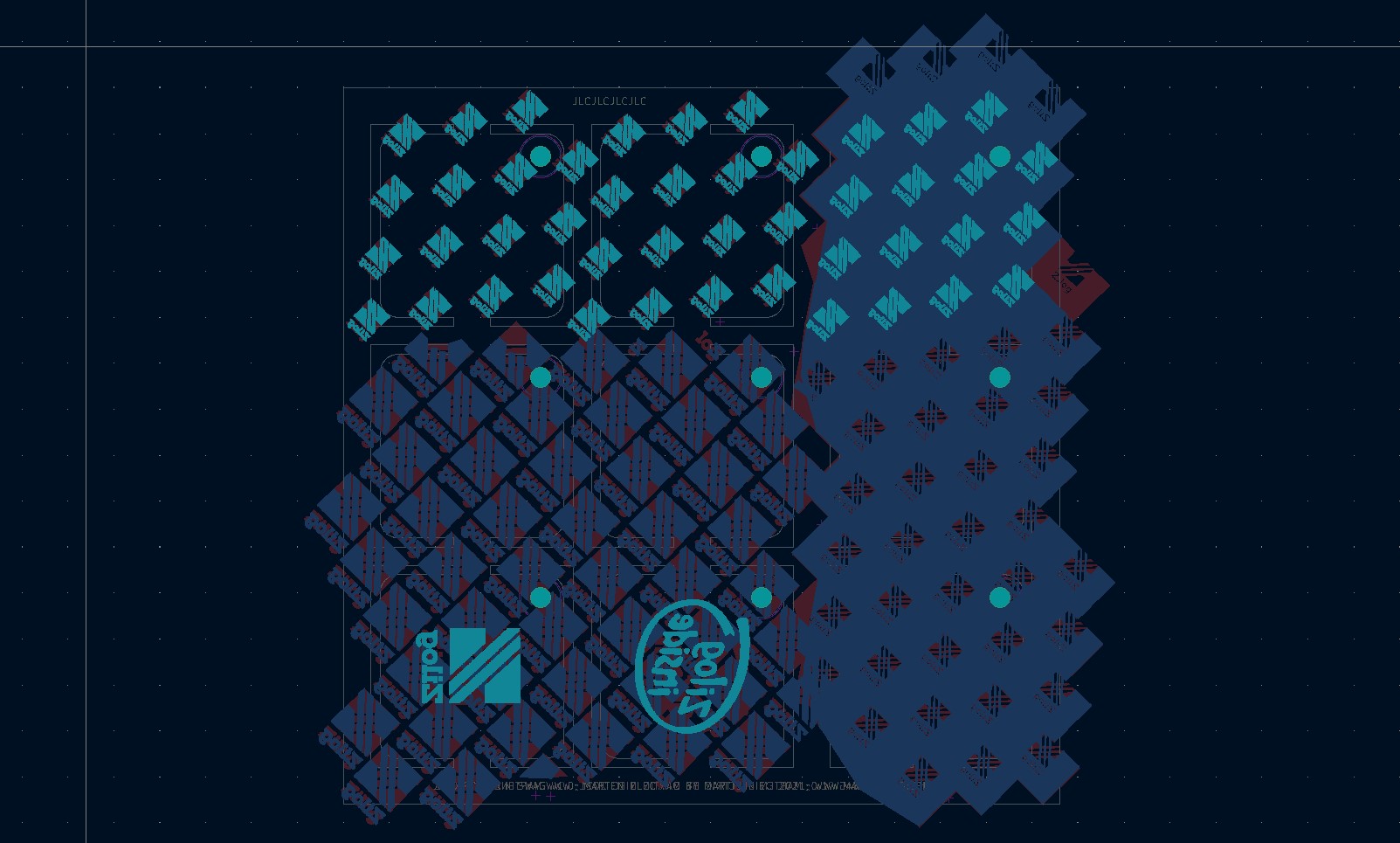 Specifications
Board Type: Backplane
Board Material: FR4-Standard Tg 130-140C Epoxy Glass Composite
Layers: Double sided
PCB Colour: Blue colour solder mask, white silk screen lettering
Surface Finish: Lead free HASL-RoHS
External size: 99 x 99 mm for 3x3 panelized, 25.4 x 25.4 mm depanelized
Board Thickness: standard 1.6mm
Board Connector no connector
Copper Thickness: 35um
Card weight: 30g panelized
Bill of materials
BOM amount for 1 depanelized adaptor:
| Identifier | | Value | Qty | Notes |
| --- | --- | --- | --- | --- |
| Printed Circuit Board | | 99 x 99 mm Z80 Keychain | 1 | v1.0 |
| Hardware | | Keyring with or without chain | 1 | |
Assembly instructions and notes
■ Gerber files contain " JLCJLCJLCJLC" to the silk layer. You can specify a location of the order number, select the "Specify a location" option when you place an order. Only if you order via JLCPCB

■ Assembly:
1 - Remove outer cornners of panelized PCB from panel by snapping mouse bites (please don't use teeth this might end up in disaster and you with new dentures) and liberate single key chain
2 - Sand mouse bites if you desire nice smooth edges
3 - Wire on keyring
4 - Proudly display and enojy the envy of fellow nerds!

Schematic
| File type | File name | File size | Last modified |
| --- | --- | --- | --- |
| Not available for this project. | - | - | - |
Design Files
| File type | File name | File size | Last modified |
| --- | --- | --- | --- |
| Gerbers Panelized 3 rows, 3 collumns 99 x 99 mm, 2 Layer FR4, v1.0 | gerber_z80keychain_v10.zip | 111 kB | 14/09/2021 |
| Solder paste stencil | Not available for this project | - | - |
Photographs
click on pictures to enlarge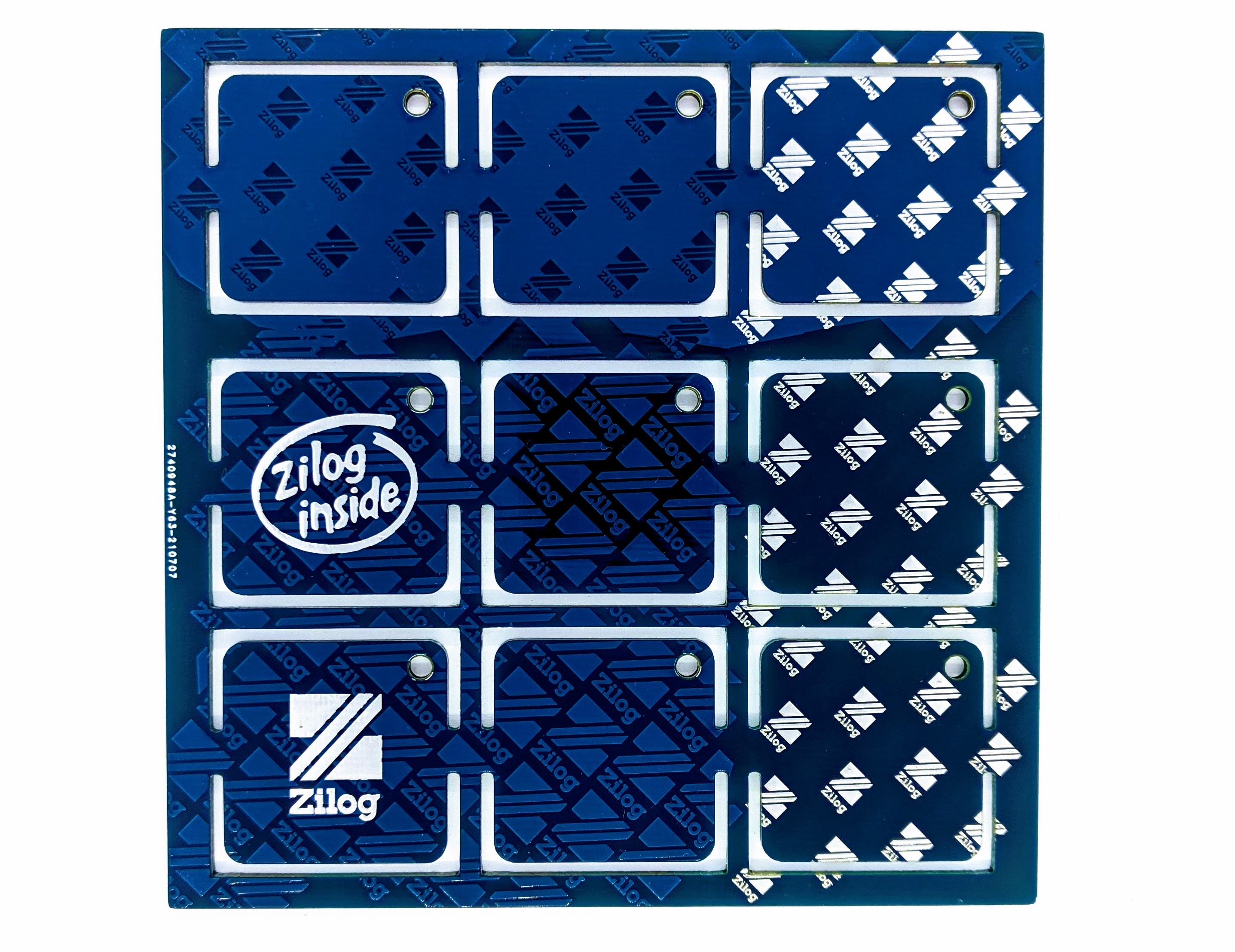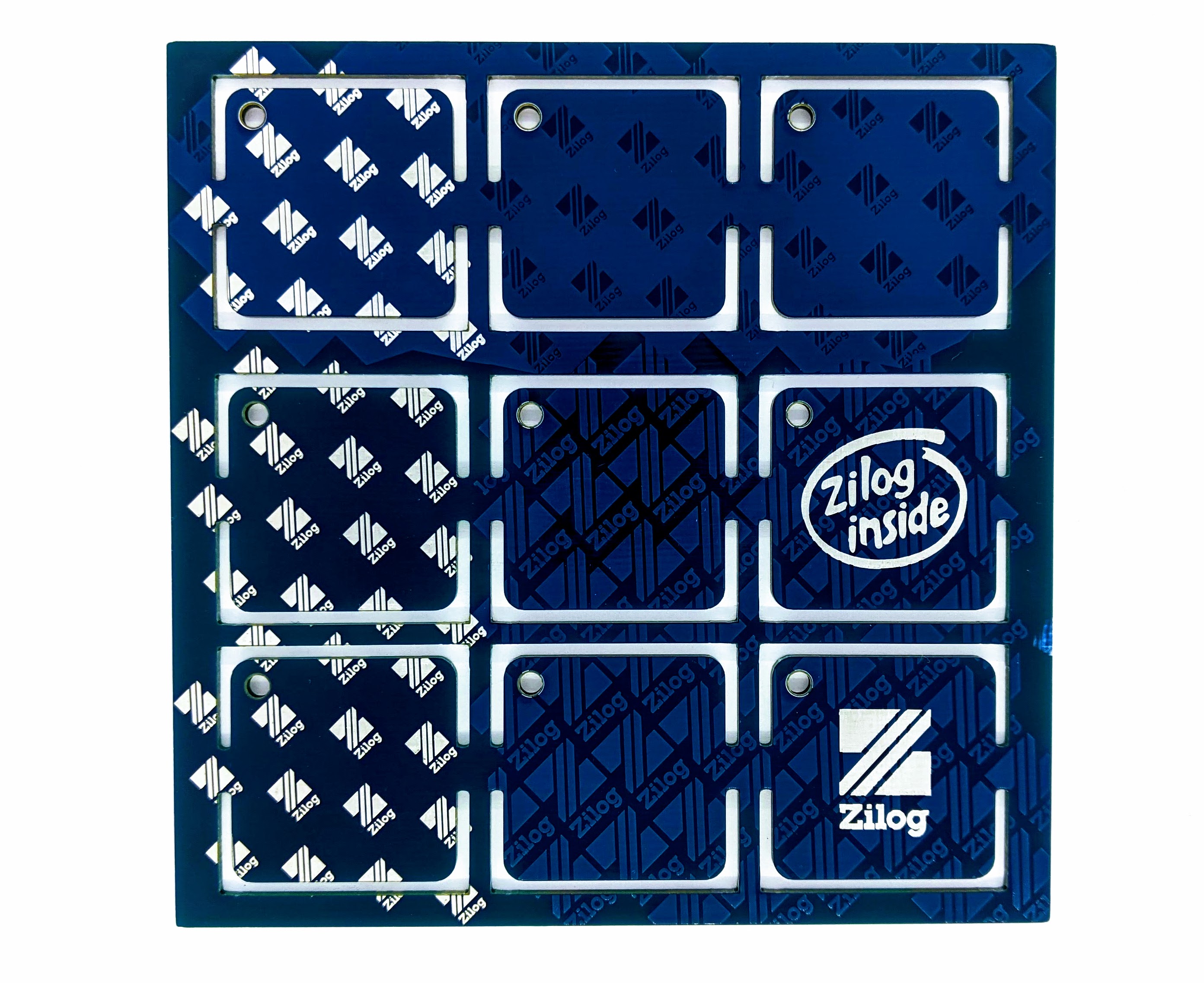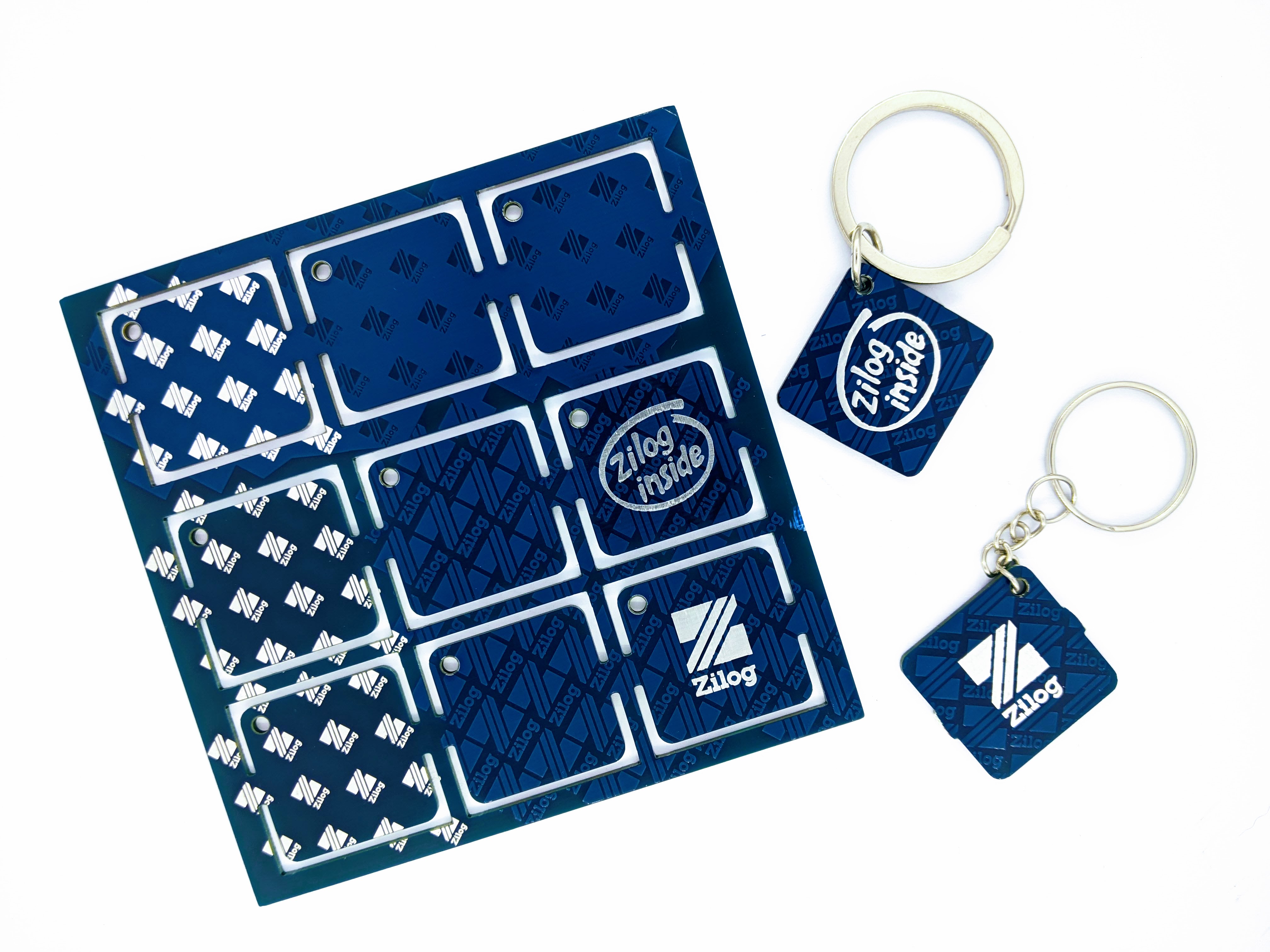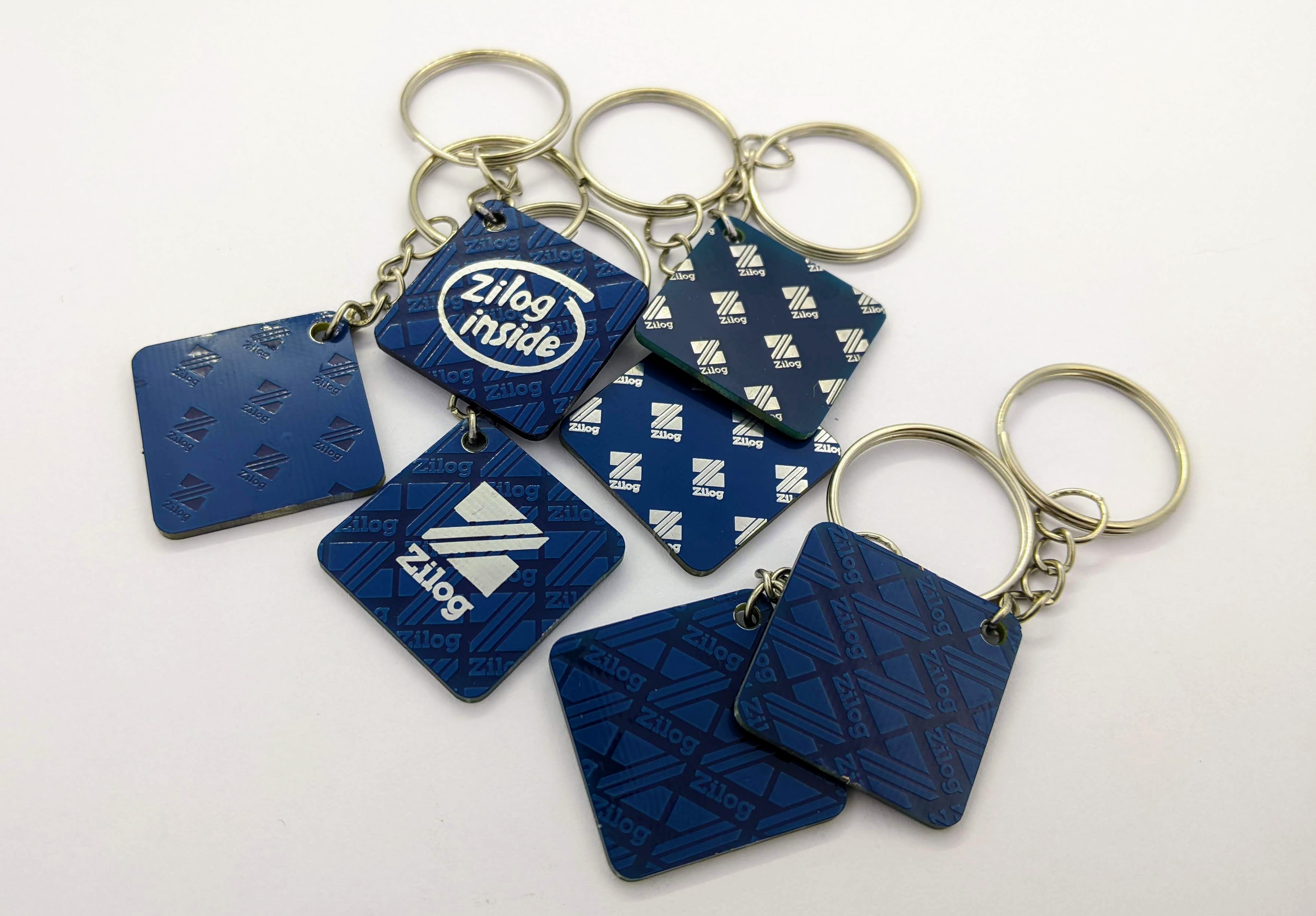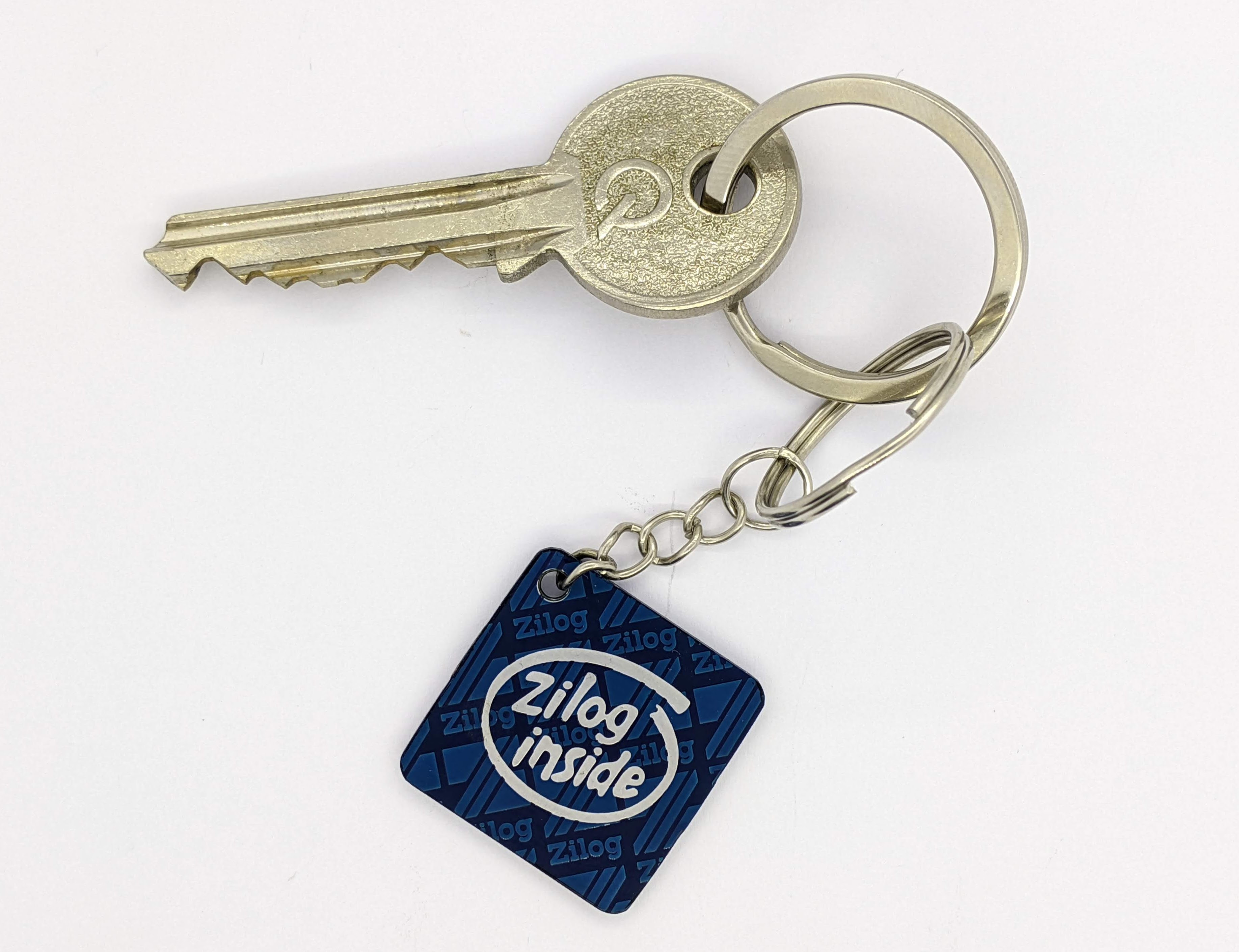 Versions and revisions
This section lists the project version and revision history.
v1.0
■ prototype

Last page update: 17 August 2022